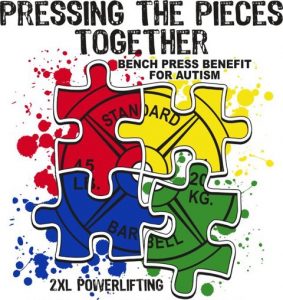 "Pressing the Pieces Together" – Bench Press Benefit for Autism
Saturday April 14, 2017 – @ Yorktown Mall in Lombard, IL
"Pressing the Pieces Together" is a bench press only contest with the proceeds going to benefit the Autism Society of America.  In addition to entering the contest, we are asking each lifter to set-up an individual fundraising account on on Autism-Society.org with a goal of raising a minimum of $100.  We will email instructions once the fundraising pages are set-up through ASA.
This meet will take place inside Yorktown Center Mall.  It will take place in the lower level of the mall in a big open area right next to Marshalls/HomeGoods and Last Chance.  We suggest parking near H&M and taking the entrance into the mall between H&M and Forever 21.  Have look at the mall map for more information.
Instructions for Online Registration:
Go to the link below, and click "SIGN UP" below the "Pressing the Pieces Together" description.
If you have not used our system before, you will need to create an account.

MAKE SURE to check to "Join our mailing list" when you create your account as otherwise you will not receive the confirmation email described below (Don't worry, we will not send you lots of spam emails–you can opt out of our Constant Contact list later if you choose).

After creating an account select the total that reflects which division(s) you will want to enter:
After submitting payment, you should receive an email confirmation–that email will include a link to submit your entry information (i.e. event, division, wt. class, etc.).
If you do not recieve that email, first try checking your junk mail–if you still do not receive it,  email Eric Stone and he can resend the link.
Once we have finalized everything with the Autism Society, we will email registered lifters instruction on how to set-up their individual fundraising page.
Any questions, call Eric Stone at (630) 677-4358.