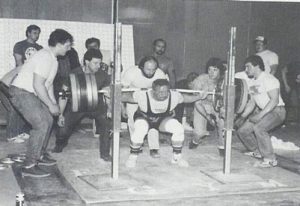 APF/AAPF Ernie Frantz Squat Invitational
February 17, 2018 at 2XL Powerlifting in Lombard, IL
–> Additional info at bottom of this page <–
Instructions for Online Registration:
Go to the link below, and click "SIGN UP" below "Ernie Frantz Squat Invitational."
If you have not used our system before, you will need to create an account.

MAKE SURE to check to "Join our mailing list" when you create your account as otherwise you will not receive the confirmation email described below (Don't worry, we will not send you lots of spam emails–you can opt out of our Constant Contact list later if you choose).

After creating an account, select the package that best represents what you would like to enter at the following link:
After submitting payment, you should receive an email confirmation–that email will include a link to submit additional registration information.
If you do not recieve that email, first try checking your junk mail–if you still do not receive it, email Eric Stone and he can resend the link.
Additional Meet Information
Meet Director: Joe Atef / Ernie Frantz – (708) 837-1391 or jatef@2xlpowerlifting.com
Event: Squat only
Place: 2XL Powerlifting – 20 Yorktown Convenience Center Lombard, IL 60148
Lifting Session: Saturday, February 17, 2018 @ 9:00 a.m.
Sanction/Rules: Sanctioned by the APF/AAPF. Check www.worldpowerliftingcongress.com for information and rulebook.
Weigh-ins:
Friday, February 16 – 9:00 a.m. to 11:00 a.m., 5:00 to 6:00 p.m.
Saturday, February 17 – 7:00 to 8:00 a.m.
Eligibility: Open to all APF/AAPF members. Lifters may become a member before weighing-in, or otherwise must present their card at weigh-ins. Registration is $30 per card, $40 for both APF and AAPF; half price for high school students.
Entry Fee: The entry fee is $60. Additional divisions will be charged $30 per division. NO REFUNDS.
Meet T-Shirts: Official meet t-shirts are available for pre-order for $15.  Only limited numbers of t-shirts will be available at the meet.
Deadline:  The entry deadline is February 1. Late entries will be charged a $20 late fee.
Awards: Scoring will be done via coefficient in Men's and Women's Divisions.  Depending on the entries, additional multipers may be added to compare APF/AAPF and raw/equipped.
Equipment: Raw (belt & wrist wraps only), "Classic" Raw (knee sleeves/wraps included) and Equipped
Sanctions: APF & AAPF (drug tested)
Divisions: Teenage, Open, Masters 40-49, Masters 50-59, Masters 60+
Records:  If you could break an IL State or American Squat record, please contact us before the meet.